Company Profile
DSG Logistics a company specialize on shipping, freight and transporting fragile products and handle with extra care that is considered as environmental-friendly. The company commences its operation and has been trans-versed into service since 2005. It has established its operation in two countries the Kingdom of Thailand and Laos PDR to which the mother company Deuan Sawanh Group Limited, requested its service of specialization in logistics and customized solution to its clients across the different countries, such as: BAST, Nippon Express, Honda Automobile, etc.is the utmost desire of the DSG Logistics to cater the needs of its clients/ clientele through a safe and reliable service. It has a diverse range of logistics services which includes warehousing, distribution and transport forwarding which specialization in logistics and customized solution to its clients across the different countries like: Australia Singapore, Malaysia, China, USA, Indonesia Europe, Japan, South Africa, Taiwan, Canada etc.
DSG Logistics which provides services on forwarding and transporting general cargos and hazardous chemicals as the time of operation. We are moving forward towards becoming Logistics Cyanide forwarder that can satisfy the sophisticated needs of our customers by the quality of its services. DSG Logistics have various clients in Thailand companies such as: Chevron, Max 3G Corp., Atlas Copco, Scania Siam, Ultra Materials, Millennium Technology, Thai Unique Co. Ltd., Deeko, S.P. Group, Magotteaux, Titco Bangkok, M. Group, Products, Metro Machinery and more.


The firm operates from various provinces of Thailand in which the locations play a very important role for efficient movement of shipment form outside the country to the final customer. With close locations DSG Logistics is capable of delivering high capacities quickly and dependably. A main part of logistics concept to take warehouse operations from various major customers and product branches. These comprises an operations like handling constant supply through connections to our customers.To optimize our quality all operations are monitored and controled by an efficient staff. The company currently uses warehouse space to offer enough capacities and the best service to our customers for a safe storage of the shipments.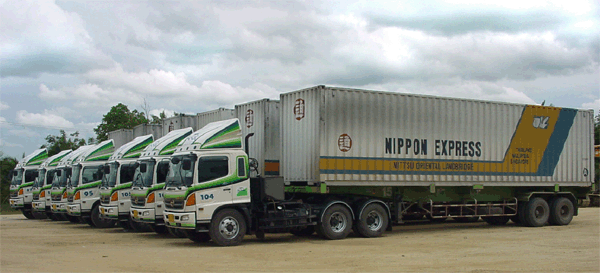 VISION
Fortunately DSG Logistics has gained a lot of long term experiences in handling this kind of operation, currently operating in Thailand and Laos PDR border as In-transit cargoes.
The company knows and familiar with Thailand and Laos transportation regulation and has an ever ready fleet of more than 100 trucks. The company is looking forward to its problem that arise difficulty on its client with regards on paper works and documentation including local regulations. Hence, the DSG Logistics will take care of this matter with ease, avoiding client/clientele hassle in solving and attaining this problem.
It is the DSG Logistics company desire to give its best service to the client that conforms to the highest HSE and Operating Standard and Requirements. The logistics also import overseas resources enabling the effectively to meet all firms expectations who engaged/rendered the same service.

MISSION
To illustrate the precautions hazardous cyanide on nature on mine site.
To demonstrate the appropriate safety measures and safe handling technique and to minimize the possibility of an incident that may occur.